Antique Heart Pine Flooring:
There are three grades of Antique Heart Pine (Reclaimed Heart Pine) in our inventory. The Following prices reflect the 1x4 (limited quantities) and 1x6 material. The prices for the 1x8 will be higher due to the increase in width. Our company can mill 1x10 and 1x12 material for special orders to make stair treads and flooring. Pricing will be adjusted on all orders exceeding 5,000 square feet, please factor in your ordering a waste factor of 10% to 12% for this product. Shipment will be sent two weeks from date of deposit. If you have any further questions please give us a call.
Stephen Hanes - Mobile, AL (251)583-7444
1) Select # 1 Antique Heart Pine Flooring:


All heartwood, tight grain, occasional tight knots (1% or less of surface area) and a few nail holes, mixed grain. 50% vertical grain or better.
2) Character Grade: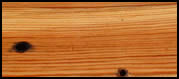 Charming, informal, rustic, knotty (2% or less or surface area) and nail, 70 % heartwood, mixed grain, looser grain.
Stair Treads are available (please call for pricing)
Reclaimed Heart Pine
Reclaimed Heart Pine or Antique Heart Pine is beautiful strong durable wood that is being reclaimed from warehouses, textile mills, and other edifices built over one hundred years ago. Reclaimed Heart Pine was originally produced from Southern Longleaf Pine trees in the late 1800's and early 1900's. During the Industrial Revolution the vast Southern forests were harvested rapidly. By the end of the Revolution most of these virgin forests had been depleted. Some of the forests still produce Southern Longleaf Pine but they are harvested as soon as they are large enough to produce lumber. It takes over 100 years of aging to produce the desired growth rings and patina found in Reclaimed Heart Pine. This abundant resource of the past is a valuable asset of the present. It is well worth the trouble of harvesting from older buildings. Many different industries rely on Lumber; there is a great need for it. Using reclaimed Heart Pine is a way to reclaim the past and preserve the future in a beautiful, historical and elegant product.